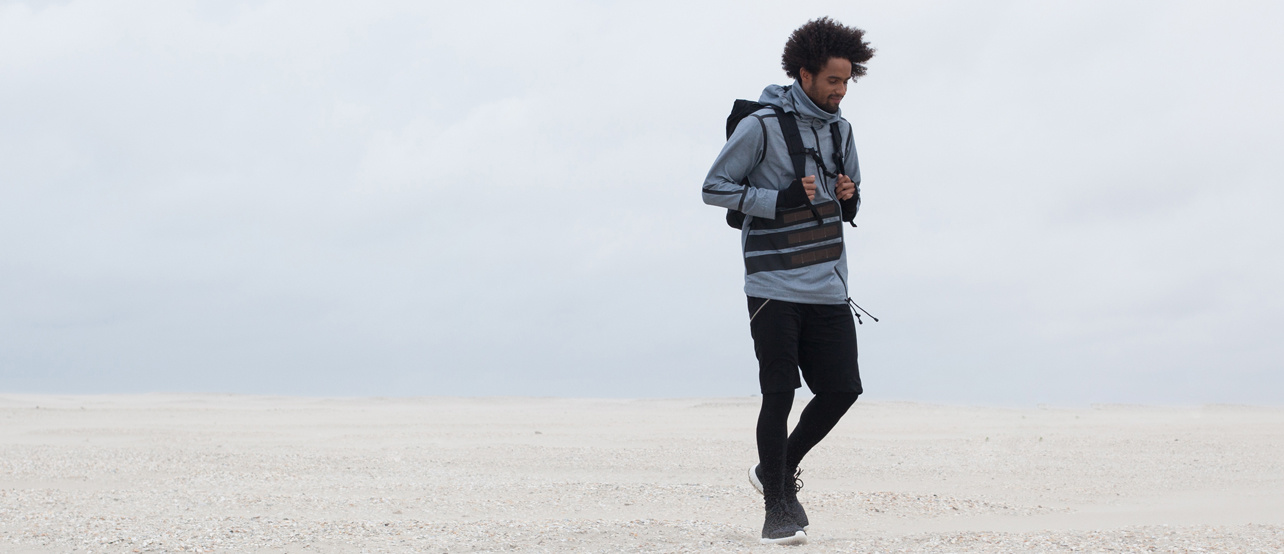 The future is here: Solar Windbreaker
In a project powered by the Waddenvereniging, we joined forces with fashion designer Pauline van Dongen – who is specialized in wearable technology – to develop groundbreaking solar garments. In 2015 we created the first recycled denim Solar Parka equipped with solar panels that could charge a smart phone in less than two hours. To support sustainable tourism, we provided the tour guides of the Wadden Sea with the garments to offer them comfort and functionality, while they were on their expedition. Being challenged by their user experience we have taken the project to the next level with our 'Jacket to the Future', using flexible solar panels that are integrated directly into the garment. Since the summer of 2016 the volunteers of the Waddenvereniging were being provided with a Solar Windbreaker, while giving tours on the mudflats. The Solar Windbreaker is an improved version of the Solar Parka, wherein the solar panel is tucked away in a side pocket and can be attached to the outside of the front pocket. This innovation is improved by increasing the percentage of recycled material of the fabric of the coat to 70%, which consists of worn-out jeans and old plastic bottles. The three solar panels are directly integrated into the garment by process of lamination. Using the world's most efficient thin-film and flexible solar panels, provided by Alta devices, the solar energy accumulated in the custom made lightweight charging module can charge a typical phone in two hours – depending on weather conditions. Being a big supporter of sustainable tourism, the Waddenvereniging wants to contribute to a sustainable mudflat environment with the creation of these innovative, wearable solar garments.
"Wearing solar cells lets us harness the sun's potential energy and become a power source ourselves in places, where this first seems impossible." explained by fashion designer Pauline van Dongen. "The Solar Windbreaker provides the tour guides with renewable energy on the go, offering at the same time comfort and functionality. The graphite colored fabric of the jacket is made out of upcycled denim yarns by Blue LOOP Originals, combined with recycled polyester and a waterproof finish. Developed with the aim of high functionality, the jacket integrates five pockets and has a hood, which can be stored behind a zipper in the collar. A power bank placed directly in the lining of the jacket, allows the user to charge any kind of portable device from phone to camera and GPS navigation, in any kind of weather. The result is a functional, technical design that will protect the tour guides of the Waddenvereniging from natural elements, while simultaneously embracing the same elements as a symbiosis." says Ron van de Wiel, co-founder of Blue LOOP Originals.
We hope that this collaboration will inspire people to think about renewable energies and the importance of sustainable developments, as well as raise appreciation and awareness for the preservation of the biggest tidal area in Europe: the Wadden Sea.