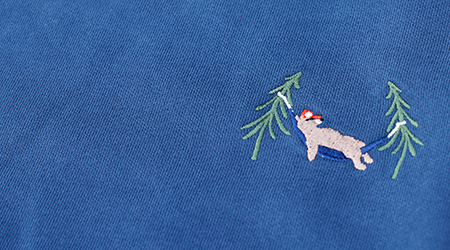 YAY, new collab! Blue LOOP Originals x Stitch Amsterdam.
Discover the captivating collaboration between Blue LOOP Originals and Stitch Amsterdam, a harmonious union inspired by the wonders of the great outdoors. Prepare to be enthralled as we unveil the extraordinary story behind this unique partnership.
With a deep appreciation for nature's beauty, Stitch Amsterdam drew inspiration from the wilderness to create mesmerising embroidery designs for this special collaboration. Each design tells a tale of its own, evoking a sense of wanderlust and adventure. Picture yourself in a Memorial tent moment, relishing the serenity of nature's embrace. Embark on a quest to unearth enchanting bird species or bask in the gentle crackle of a campfire on an endless summer eve. 
As the creative vision took shape, Blue LOOP Originals stepped in to bring these captivating designs to life. With their commitment to sustainability, they crafted each sweater using recycled materials, weaving a tale of conscious craftsmanship. The result? A collection that not only showcases exquisite artistry but also echoes the call for environmental responsibility.
Every stitch, every thread carries the essence of this remarkable collaboration. With every wear, you become a part of the story, embodying the spirit of exploration and reverence for our planet. The partnership between Blue LOOP Originals and Stitch Amsterdam symbolizes the boundless possibilities that arise when art and nature intertwine.
Let the t-shirts and sweaters from this remarkable collaboration be a testament to your love for both style and our planet's precious resources.